ManiFresh: Towards a Hip Hop Festival
---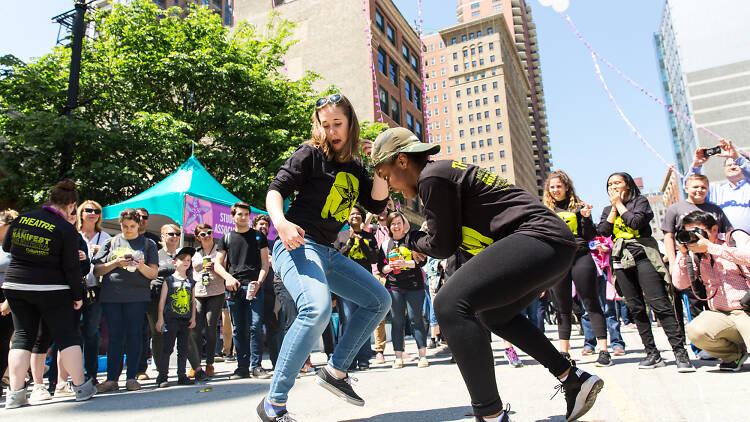 Joining the Event Management Practicum this semester has been an exciting and challenging experience for me. The class is designed to provide students with the necessary skills, knowledge, and experience to plan and manage live events. As the Graduate Producer of ManiFresh, I had the opportunity to work with my peers, faculty, and the wider community to produce the Hip Hop stage at the end-of-the-year Manifest celebration, one of Columbia College Chicago's most anticipated events.
ManiFresh is a student-driven Hip Hop festival that showcases the creative works of graduating students. It brings together the entire community to celebrate the college's creative spirit and develop long-lasting connections. This year, the festival celebrates the 50th anniversary of hip-hop, 20 years of hip-hop in Chicago, and highlights Columbia's role within Chicago's hip-hop history.
As a Producer, I am responsible for various aspects of the festival, including developing objectives that fulfilled the mission and goals set forth by clients, creating funding proposals, overseeing the budget, and managing administrative work. I also have the opportunity to lead the funding pitch, coordinate team and external meetings, and assist with day-of-production tasks.
One of the highlights of this experience has been the opportunity to work with our clients – the Hip Hop department of Columbia College Chicago and the Chicago Hip Hop Heritage Museum. The Chicago Hip Hop Heritage Museum is a celebration of the Hip Hop community that has served as an alternative to negativity since the 1970s. It was a way for people to escape the realities of gangs and drugs and provide a therapeutic outlet through creativity. Working with the museum has been an incredible opportunity to learn about the history and legacy of Chicago Hip Hop.
Through our interactions with the museum, we've also learned about the connections between Columbia alumni and their contributions to the Chicago Hip Hop community. This has been particularly meaningful for me, as it has provided insight into the impact of Columbia College Chicago on the local community and beyond.
One of the most rewarding parts of this experience is working with a team of dedicated and talented individuals who shares the same passion for event management. Each team member brings unique skills and perspectives to the table, which allows us to create a truly innovative and impactful festival. Additionally, working with the community and hip-hop practitioners, entrepreneurs, and activists is a great learning opportunity and allows us to develop meaningful relationships.
Overall, the Event Management Practicum has been a fulfilling and enriching experience. From learning about the different aspects of event management to getting hands-on experience producing an event, I feel confident and prepared for a career in this field. The ManiFresh festival is a true celebration of creativity and community, and I am honored to be a part of it. I am excited to see what we will manifest as we work towards our vision for the festival.