Sam McPheeters Reads at Columbia College Chicago
---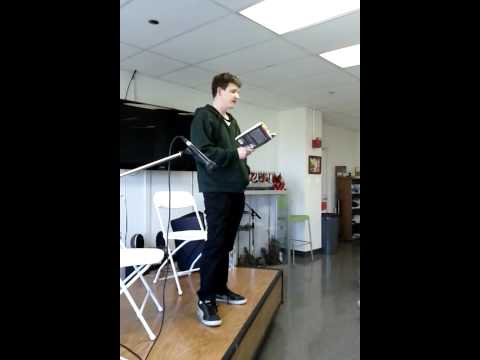 On April 12, I was glad to bring Sam McPheeters in to Columbia College Chicago Multicultural Affairs to read from his debut novel, The Loom of Ruin.
Loom of Ruin book cover from cf.badassdigest.com
Sam is best known for his boundary-pushing '90s punk bands Born Against and Men's Recovery Project. He's also an accomplished visual artist, and he used to run the DIY label Vermiform Records. In the last few years, Sam has taken to writing. His work regularly appears in Vice, and he started a Twitter account with the plan of writing a tweet-length short story a day for a year.
After Sam gave a spirited reading of a few chapters from his book, I got to conduct a Q+A with him, where he talked about creativity and the similarities and differences between a book tour and a punk rock tour. It was a great afternoon for me for a bunch of reasons. First off, I've followed Sam's work since I was in high school in the mid-'90s, so it was cool to meet him and check out his new work. Also, putting on this event cemented something in my mind: I came to grad school to be able to do what I love, and this reading was the prime example of that. Instead of being the weird guy at the office who covers up his tastes with the hopes of fitting in, I got to indulge my tastes while on the clock. I feel like grad school worked. It has helped me to merge the creative and the progressive with my day jobs, and that makes me happy.
Columbia reading series Silvertongue sponsored the event. Above is a video of Sam reading chapter three of The Loom of Ruin.