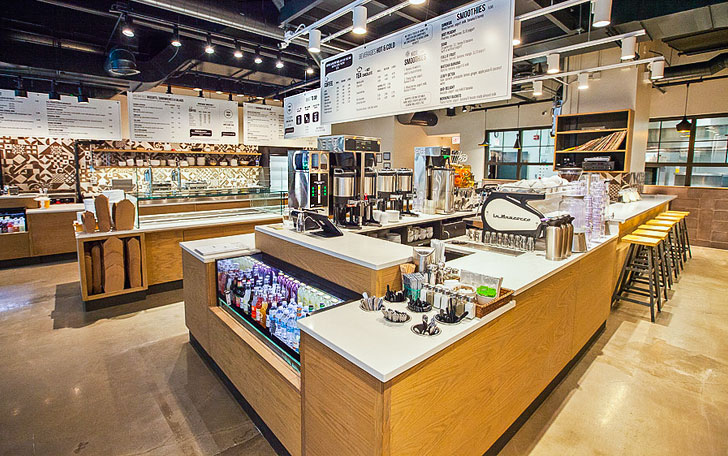 By Kristen Nichols
Peach and Green, which opened in the South Loop less than two years ago, takes its inspiration from cafes in Ireland. The restaurant's mission is to "enable customers to eat and live well by providing healthy, fresh food at an affordable price." The prices may be high for some diners, but there is no question that Peach and Green uses high-quality ingredients.
The layout of this cafe is confusing. Picture a high-end Subway merging with a classy buffet. Where do you start? With the Subway-like salad and sandwich counter to the left? The small buffet next to it? The drink station where they make smoothies and coffee drinks?
These options seem like a lot when Peach and Green is busy and there are two long lines, one at the drink station, the other at the sandwich counter, in addition to people walking along the buffet. Choosing the sandwich or drink station is easy enough once you adjust to the chaos, however. Off to the left, there are tables underneath modern-looking stainless steel light fixtures and black-and-white artwork on the walls. There's even a set of sofas in the front window, coffee table in between, perfect for students trying to study while eating.
The problem is getting from the left side of the cafe after ordering your food to the right side where you can sit almost out of the way. To do this, you have to walk through the small space between the drink station, where people are standing in line for coffee, and the door, where of course, people are trying to enter.
The casual set-up of the couches, plus Peach and Green's effort to cater to dietary restrictions by providing vegan and gluten-free options, clearly shows that their marketing is geared towards the younger crowd, more specifically, college students in search of a decent meal. However, the prices are probably much less of a concern to their older patrons, businessmen and -women, ranging from their twenties to sixties.
One salad at Peach and Green, the Pilsen, is listed on the menu at $9.90 – not too pricey compared to a salad from Potbelly's or a lettuce wrap from Jimmy John's, but obviously a little more than Subway. At the drink station, coffee prices are comparable to Starbucks, and the smoothies are either $5.25 or $5.95 for 14 or 18 ounces. The option of soy or house-made almond milk is available with a small upcharge.
Coffee and convenient but healthy food are easy to sell to college kids, but one could see how a $10 salad or a $6 smoothie would cause them to think twice. This could very well be the reason only a handful of students were to be found mixed among older adults during a Wednesday lunch rush.
Those who do turn out to pay a little extra for Peach and Green's proclaimed "natural, seasonal, no additives or preservatives" fare are rewarded with meals full of fresh, wholesome ingredients. The Pilsen salad, for example, consists of slow-cooked beef, shredded and mixed with Romaine, black beans, mature cheddar, avocado, tomatoes, chipotle and cilantro crema, and house-made spicy salsa, per the menu. These ingredients come thoroughly mixed, presented practically rather than artistically. The portion of salad is large enough for two meals, though the liquid from the crema and salsa make it soggy and much less desirable to eat later on. The beef is tender enough to fall apart at the prod of a plastic fork, which is impressive, and good because that's what you're given to eat it with.
The ingredients are all fresh, as the owners claim, and you can clearly see the bright colors of the vegetables, undiminished by dark spots, along the counter—hence the feeling of  "like Subway, but better." The menu does not joke about the spiciness of the salsa; your nose will start running less than halfway through the salad. The avocado helps to relieve a bit of the kick, but ultimately, there is much more spice in the salad than clear, vegetable taste, as the beef and lettuce absorb the spiciness. A drink is necessary to have while working on this large salad. One option, the Just Peachy smoothie, is made with peaches, orange juice, honey, strawberries, and yogurt. It's refreshing and fruity, though not as sweet as one might hope.
Diners at Peach and Green appreciate being able to receive their food in minutes, after they figure out where they need to go to get it. It's true that it isn't the cheapest form of fast-food, but the extra money spent on a meal that incorporates fresh produce and quality meat makes it worth getting food so different from most, if not all, other fast food.