Chicago SummerDance
---
From June to October, Chicago comes alive. It wakes up from its cold and long winter slumber and turns into a vibrant and multicultural city with tons of street, art, and music festivals. You have the Chicago Blues Festival and Pride Fest in June, Taste of Chicago and Lollapalooza in July, the Chicago Air and Water Show in August, and the Chicago Jazz Festival in September. In addition, each neighborhood organizes its own street fest, so there are more than enough things to do in Chicago during the summer.
One of the events I am most excited about is the Chicago SummerDance series, which is offered by the Chicago Department of Cultural Affairs and Special Events. It is a series of free dance lessons set to live music on an open-air dance floor in Grant Park, right across the street from Columbia. Every Friday, Saturday, and Sunday from June 24 to September 11, people from different cultural backgrounds come together to learn some steps and dance with each other. Every day features a different style of dance, including ballroom, Latin, folk, hip-hop, tap, line, jazz, Irish, African—you name it. It is an incredible opportunity to move with each other, learn new moves, and gain a better understanding of different cultures.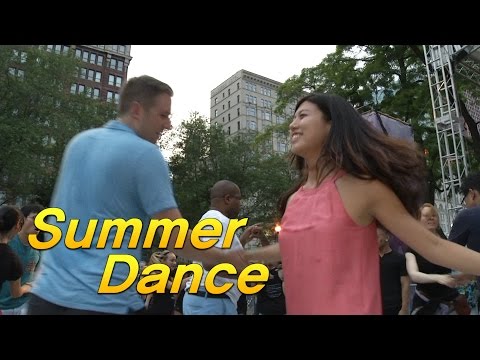 As part of the Dance/Movement Therapy and Counseling curriculum, incoming first-year students are required to attend at least three summer dance sessions by mid-August. In my opinion, this is primarily to make students sensitive to different cultures; to different ways of moving; to the feelings evoked when dancing with someone whom have never met before and you maybe wouldn't interact with otherwise; and to your own sensations, images, feelings, and thoughts during the experience.
I remember that I was quite overwhelmed when I attended my first SummerDance lesson. I was never a "touchy" person so the image of having to dance with someone I have never met before and in close proximity made me anxious. I was totally occupied with my own sensations, images, feelings, and thoughts and not really able to be in the relationship with the person/people I was dancing with.
I was fascinated by myself when I returned this year after completing the program. My whole perspective had shifted. I was able to be fully engaged in the relationship with my dance partner, be sensitive to their experiences as well as mine. I still don't like dancing in too close proximity with someone I don't know (just a movement preference I guess), but I am more able to accept those feelings and to stay present in the moment regardless. I can't believe how much I have grown and learned over the past two years and it's nice to have such experiences. Check out the SummerDance website for more information.
LET'S KEEP ON DANCING! :)