The Life of a DMT Graduate Student
---
After devoting my last two blog posts to my life as an intern and as a graduate assistant, I now want to dedicate the last post of this series to my life as a student in Columbia College Chicago's Dance/Movement Therapy & Counseling program.
So what does it look like being a student in Columbia's DMT&C program? Basically, it all comes down to taking classes on Tuesdays and Thursdays, trying to find the time to do homework and assignments, rehearsing for performances and other volunteering opportunities offered by our student organization MOVED, and finding time to hang out with friends.
To enable students to work during their first year of studies and do their internship during their second year, classes are held on Tuesdays and Thursdays during the Spring and Fall semester (Tuesdays during summer). Generally speaking, students take four classes during the semester, three to four hours each. One class is taught in the morning (9 a.m.–12 p.m.) and one in the afternoon (between 12:30 p.m. and 5 p.m. depending on class and year). Because I am in my final semester and some people from my cohort are already working on their thesis, I only have three classes plus occasional thesis meetings.
My current classes are Family Counseling (Tuesdays, 9 a.m.–12 p.m.), Internship Class/Supervision (Tuesdays, 1 p.m–2:50 p.m.) and Addiction Counseling (Thursdays, 9 a.m.–12 p.m.). Most classes are structured similarly: The first 1–1.5 hours cover theory on a particular topic. A lot of times this includes verbal discussions, small group work on case scenarios, video examples, guest speakers or classic lecture style (even though most of my professors do not use PowerPoints). During the second half, we bring the theory into our bodies through movement experiential, led by students, faculty or guest speakers. This setup is extremely helpful. After all, we are becoming dance/movement therapists and our body is one main source of information that we use when working with a client. I really appreciate that our professors do their best to always make the body and movement part of class.
Probably because this is my last semester, the workload seems much lighter. In Family Counseling I had to lead an experiential on a family counseling approach, write a 15-page midterm paper and will have to write a final paper (probably around the same length). Addiction Counseling is also manageable. We have a quiz every four weeks, have to create a case scenario and lead a DMT mock group, write a final paper, attend two AA meetings (or similar support group) and write a response paper on it. Finally, for supervision we basically just have to attend internship, present an embodiment project on one of our clients and fill out evaluations at the end of the semester.
Of course, for all courses, participation in class is one of the main grading criteria. But if you happen to miss a class, there are always ways to make it up. Nevertheless, if you consider applying for this program or got accepted (YAY!), DON'T EXPECT IT TO BE SO RELAXED!!! The past 5 semesters I was buried in work. I had at least one assignment due every week, usually two, including big group projects or co-led movement experiential. Even if most papers are only 4 to 8 pages long, it still can be nerve-wracking! Seriously, the workload in the program is no joke. But I guess that's just something you have to deal with as a graduate student.
That said, most assignments (not all of them) are helpful for your professional development. They all focus on the application of the material you cover in class, and you will rarely get in a situation in which you have to memorize and then recite the material, which is how most of my undergraduate experiences looked like. So you actually get a sense that you are learning something!
Oh, and did I mention that you will get a ton of readings? You will! But truth be told, I gave up on reading during my second semester (besides readings I had to do for assignments or I was actually passionate about) and I still made it through the program ;)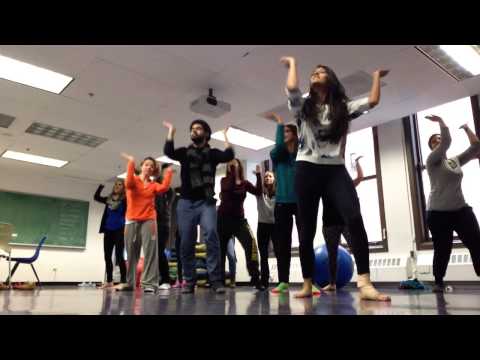 As if attending class and doing homework is not enough, there are also a ton of events that our student organization, MOVED (Masters Organization for Volunteering and Education about Dance/Movement Therapy), organizes throughout the semester. Those events are usually smaller performances as part of a gala, annual anniversary or fundraiser, at which MOVED was asked to perform. Participation is voluntary, but because most of us crave the feeling of dancing on stage it becomes a significant part of student life.
In addition, MOVED also organizes our annual/semesterly student concert, in which current students and alumni can perform. Therefore, afternoons and evenings (occasionally weekends, too) are filled with rehearsals or performances. Sometimes we also have fun stuff we do to promote the field, just like the video above that we (students together with faculty and staff) recorded to promote the field as part of Michelle Obama's #GimmeFive challenge. The amount of work you will put into MOVED really just depends on how much you want to invest in it.
Lastly, your cohort members will become a significant part of your life while you are going through this program. A cohort in Columbia's DMT&C program consists of 16 to 20 people, who ideally stay together for the full two years and take all the classes as a group. This size makes the program still feel personal and intimate, but also allows you to work in small groups and pairs during class. Another advantage of this cohort size is that you get a feeling for leading DMT mock groups, which is the set-up that most of us are doing during our internships (just a few are only doing individual sessions). In addition, the group is split up during the second year for internship class/ supervision, so you will also have some classes with only 4 other classmates.
After starting off with 18 people in Summer 2014, I am sad to say that my cohort is now down to 14. Regardless of the countless changes my cohort was facing, I can say that I developed some of the closest and most important friendships that I have ever experienced. After all, you are sharing a lot of intimate and personal stuff with your classmates, and they go through all the ups and downs with you (sometimes going through similar ups and downs in their own life at the same time).I am
I am incredibly grateful that I have met all of them, and the thought of splitting up at the end of May hurts. You just never know where life will take you. Therefore, I try to spend as much time as possible with my friends, going out for drinks or food after class, meeting up on the weekends to study or drinks after internship, or meeting on Fridays for self-care (e.g. going out for karaoke, dinner, performances, movie night, cooking together, etc.). I am sure that some of those will become fond memories that I can look back at.
Looking at all of this I really just can say that being a graduate student in Columbia's DMT&C  program will take you on an emotional but exciting two-year ride. You will cry, laugh, stumble and fall, get up again, be desperate, hopeful, insecure, full of energy, confident, burned out and experience a thousand other feelings and emotions in a relatively short period of time. While going through all this can be scary and, at times, makes you want to run away, it will help you grow to an extent you would never have dreamed of.
Looking back at myself before I started the program and where I am now, I am astonished at how much I have grown and learned about myself, and how integrated I have become. I can truly say from the bottom of my heart that deciding to be a graduate student in this program is the best decision I have made in my life, and what I have learned will guide me through the rest of it.