Let our powers combine!
---
[flickr id="8028467651″ thumbnail="medium" overlay="true" size="original" group="" align="none"]

How come as a twelve-year-old I had to be dragged out of bed on school mornings but was up at dawn on Saturdays? Cartoons, that's how. I'm not sure if it was the quaint environmental message or the pretty damn cool powers those planeteers had, but Captain Planet was a firm favorite. If you're not familiar with the premise, these five kids have magical rings, which they use to fight the bad guys and protect Earth.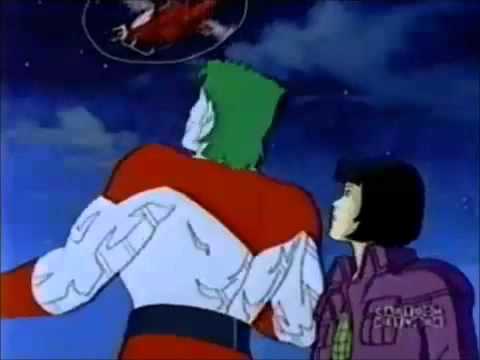 No one can whistle a symphony. From a young age, Captain Planet instilled a firm sense of the concept of collaboration. In an article for Screen Magazine, our Writing for Producers professor, Karen Loop, states that the Film & Video – Creative Producing MFA program is "built on two basic tenets: telling a good story will always be paramount, and collaboration is a necessity."
We are working with the Film & Video – Cinema Directing MFA students, producing a scene that they must write and direct. This week, I've been putting out offers to cinematographers and production designers, essentially assembling a team of filmmakers. However, the process extends beyond just the film department. Last week, we pitched to the Music Composition for the Screen MFA students. That's one of the great things about being a part of the largest private arts school in North America—the talent pool from which we can draw is huge.
I introduced the producers in these two previous blog posts, but if you are considering grad study at Columbia, take some time to read up on the rest of the Graduate Student Ambassadors. We're like the planeteers, but without the rings. We each represent a different path of study within Columbia, and harboring an awareness beyond just your desired field of study will serve you well. Having some idea of the types that may potentially become your fellow Columbia scholars will put you one step ahead.
Two weeks ago, the Graduate Student Ambassador for the Arts, Entertainment & Media Management MAM program, Ali Porter, blogged about Chicago's L. He might be from the Harrison side of the tracks, but I'll overlook it. Us film folk are located five blocks further south, #TeamRoosevelt forever. What I love the most about Chicago's L is, when one passes overhead, it makes me feel like I'm in an episode of E.R.
For me, E.R. remains one of the greatest television dramas of all time. The scene below, the final-ever scene, showcases why. By throwing back to the pilot episode, it nicely completes Dr. Carter's character arc. The story is left open ended; the Gilmore Girl was only introduced in this final episode as to suggest it was starting over. The music plays a great part, but most of all, the slow steadicam shot at the end and its use of Chicago's L to establish location one last time create the perfect ending.
Finally, let me remind you that teamwork is ubiquitous—on the playing field, at the office, raising children, even lifting a couch. I hope someday to produce something of the same caliber of E.R., but rest assured it will take one hell of a collaboration to pull that off. Just remember that, as a producer, you're a talent scout. Start scouting…